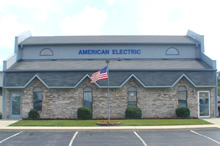 American Electric Company Headquarters
in Avon, Indiana

Welcome to American Electric Company, Inc.
American Electric offers a broad range of experience to meet your objectives whether it is a design build or value engineered project. Our staff can meet your new constructions needs from large to small including high-end residential dwellings, multi-family dwellings, commercial facilities, medical facilities, church facilities as well as residential, commercial and industrial service work.
In addition to the electrical installation American Electric can meet your objectives in providing installation of security systems, fire systems, nurse call systems, telephone / data communication, audio / visual systems, lighting control, home controls and structured wiring technologies. We also have the equipment to meet any of your underground and trenching requirements.
Whatever the project role, our staff is prepared to safely and successfully complete the project to meet our client needs on time and within budget. We are licensed, bonded, insured and located just 15 minutes from downtown Indianapolis.


To successfully blend the talents of our dedicated staff, state of the art tools and technology and the right attitude to provide our customers with safe, economical, professional electrical installations and quality service.


Bruce Cordray and Mark Hughes founded American Electric Co., Inc. in 1985 with the objective of committing themselves to providing a competent staff and excellent product. American Electric takes pleasure in meeting the expectations of the project as well as your organization.


Associated Builders and Contractors
Independent Electrical Contractors
Avon Chamber of Commerce